Pastor Jeffrey G. Phillips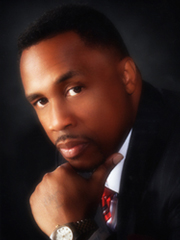 Pastor Jeffrey G. Phillips was born again in 1980 and water baptized in 1985. He was called into the ministry in 1986, and ordained and installed as Pastor of World Shakers Church International in 1997.
Pastor Phillips received ministerial training and graduated from The Ever Increasing Word Training Center at Word of Life Christian Center in Darrow, Louisiana, which is under the leadership of his Spiritual Parents, Dr. & Mrs. Leroy Thompson, Sr.
Pastor Phillips has been in the ministry for 25 years, pastoring for 14 of those years. With all degrees in retrospect, he still did not know victory, according to God's standards, until he was exposed to the Word of Faith through Word of Life Christian Center and Dr. Leroy Thompson, Sr.
In 1988, he was baptized with the Holy Ghost and his life catapulted. He captured the knowledge of the truth richly exhibited in the powerful Word of God. Knowing who he is in Christ, what belongs to him, and what he can do in Christ has burst forth a new creation.
In 2001, he was instructed by the Spirit of God to change the name of the church from Pilgrim Rest Faith Ministries to World Shakers Church International. He began teaching people how to live the life of faith; how to walk by faith, not by sight; how to live the victorious abundant life in Christ Jesus; and how to be led by the Spirit of God. Church membership has grown at a supernaturally rapid rate.
He not only believes but also knows that the keys to a successful ministry are the combination of praying in the spirit; living and teaching the Word of Faith; and following after the leadership of the Holy Ghost. He is married to First Lady Wilma Phillips. They have three children, Telisha, ZeKeidra, Jeremiah and five grandchildren.